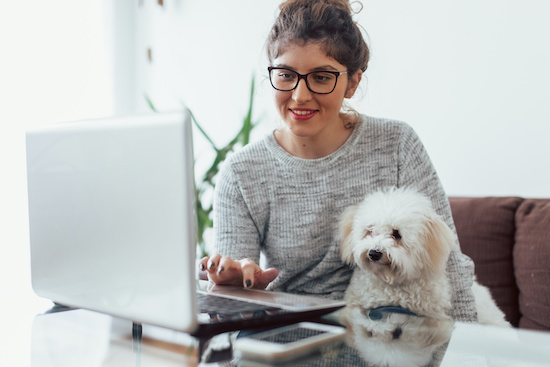 One positive impact of the COVID-19 pandemic has to do with something most people can get behind: pet ownership. Surveys carried out in December 2020 showed that 10% of respondents in the United States said that they had recently acquired a new pet, which was an increase from just 6% earlier that year.
This surge in pet ownership provides employers with a great opportunity to show how much they care about employees and bolster their company culture by providing pet insurance for employees in their health benefits package.
This is important for several reasons. Pet insurance options can make companies more competitive when recruiting, boost employee morale, and can significantly improve employee satisfaction. Studies show that 92% of employees believe benefits packages are important for their overall job satisfaction, which can lead to increases in productivity and company loyalty.
Below is everything you need to know about pet insurance and why you should be offering pet insurance to your employees today.
Pet insurance: the basics
You might be wondering how pet insurance works. Just like health insurance, pet insurance covers portions of unexpected accidents, exams, shots, chronic conditions, and acute illnesses and injuries.
Some of the more notable companies offering pet insurance include:
Some companies cater more to a specific type of pet or niche pet needs, so be sure to review each company to see what makes the most sense for the needs of your employees.
Why pet insurance is important
Providing robust pet insurance plans to your employees is important for several reasons. As we've discussed, it's a great way to boost employee morale and create the kind of company culture you can be proud of.
There are a plethora of other reasons, however, why providing pet insurance makes sense for both your employees and for business.
Pet insurance will:
Meets today's changing demands - The COVID-19 pandemic has brought about a surge of pet ownership, and providing pet insurance and pet-related benefits can help employees adjust to the lifestyle changes that have come out of the pandemic. And with more companies adopting remote and hybrid work structures, we can expect Americans to continue acquiring new pets into the near future.
Pets can improve mental health and wellbeing - There are several studies and testimonial accounts that show how pets can help improve

stress levels

, loneliness, anxiety, depression, and other mental health-related symptoms. By giving your employees the tools to look after and care for their furry friends, you're ensuring that your employees have all the tools they need to stay healthy, focused, and productive at work.
Demonstrates to employees that you care - People want to feel valued and cared for at work. They want to be part of a company culture that sees them as people, not just workers. That's why investing in a robust, comprehensive health benefits program is so important. It communicates to your employees that you care, and it allows them to feel valued and part of an organization that they can trust. This can lead to more energized, dedicated, and loyal employees for years to come.
Makes you more competitive - Imagine a high-quality candidate applying to two competing companies that have, relatively speaking, the same pay, benefits, and job expectations. There isn't all that much that sets these two companies apart, and this candidate is having a difficult time deciding which job to take. If this person is a pet owner and sees pet insurance integrated into their benefits package, how do you think they'll feel? They'd probably get pretty excited. People love their pets, and being a part of a company that looks out for them and their furry friends will make a big difference in winning competetive candidates over.
Opportunities to generate excitement and build camaraderie - Companies are constantly looking for new ways to build a sense of community. Showcasing your love and care for pets through pet insurance can give you new opportunities to create fun and exciting events around the theme of pets. You can have a "bring your pet to work day" or even a 30-minute slide show where people can share their favorite pet pictures.
Whether you're looking at this from the vantage point of recruitment, company brand, company culture, employee loyalty, productivity, or job satisfaction, offering pet insurance for employees just makes sense.
Grokker can make sure your employees' wellbeing needs are covered
While we believe that offering pet insurance to employees is more important than ever, you don't want to forget the health and wellbeing of your actual employees. With Grokker, you can completely transform your workplace by empowering your employees to take care of their health and wellbeing, no matter where they are.
Gain access to a library of over 4,000 fitness, mental health, nutrition, sleep, and financial wellbeing videos that meet a wide range of abilities, interests, and goals.

Employees at your organization can access Grokker form anywhere, on any device, and connect with any of our 130 wellbeing experts in the online Grokker community.

We do the heavy lifting so you don't have to. We offer a real time reporting dashboard, interactive surveys to track employee sentiment and progress toward individual and overall company goals.
An investment in the health and wellbeing of your employees is an investment in the health and wellbeing of your company.
Sign up for a live Grokker demo today.