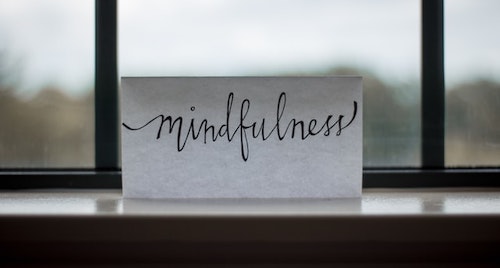 When you hear the term mindfulness, you might think of tropical vacations, yoga classes, or sitting crossed legged on a beach. However, mindfulness can also be a practice that you can implement into the daily life of your organization.
Understanding mindfulness in the workplace and how it can benefit your employees is integral for team building, communication, and productivity.
It's important to remember:
An employee who is mindful is better able to cope with the rigorous expectations of a high performance workplace.
Encouraging mindfulness in the workplace can help your employees to stay consistent and avoid burnout.
Promoting wellbeing and mindfulness at work shows your employees that their mental health is a top priority for your organization.
[Read More: Mental Therapy]
What is mindfulness?
You might be wondering to yourself, what exactly is mindfulness?
Mindfulness is the practice of being present in a non-judgemental and accepting way.
This means practicing mindful communication in the workplace and understanding and settling into thoughts and feelings as they come up.
It is a way to train your mind to reduce stress in any given moment, so that you are fully aware of yourself.
Is this the same as meditation?
Yes, mindfulness is a big part of meditation, but mindfulness in the workplace can take many forms for an individual employee.
It's important to create a culture that respects the mindfulness practice of the individual, so that the whole can work more effectively.
Best of all, when used correctly, it's possible to utilize mindfulness for productivity.
Creating a mindfulness culture at work
So how do you create a mindfulness culture at your workplace?
A simple rule of thumb is that multitasking is the opposite of mindfulness.

When we have too many things to focus on at once, we aren't present and aware of what we are doing.
Slowing down can actually mean speeding up.

Productivity seems like the antithesis of mindfulness, but when practiced well, mindfulness improves productivity by keeping your mind focused on one thing at a time.
Mindfulness at work leads to higher quality work.

When too many things are calling our attention, the work suffers from oversights, feeling rushed, or simply just the anxiety of production.

Encouraging mindfulness is taking the foot off of the gas pedal for a moment and bringing the focus back to the task at hand.
Mindfulness practices for the workplace
You may be wondering how to practice mindfulness throughout your work day.
There are many ways to improve mindfulness in the workplace. With the right help and guidance, you can bring mindfulness to each aspect of your daily routine. The key is to focus on achievable mindfulness steps. It is important to remember:
Practicing mindfulness in the workplace can be tough, especially in this day and age.
Because many of us are stuck at home, it can be difficult to schedule time to take breaks to disconnect, focus on our breath, and renew our presence and focus.
Thinking of useful strategies to improve mindfulness, encourage team mindfulness, and create mindfulness practices can be a lifesaver for employees who feel overwhelmed and don't know where to begin.
One way to encourage mindfulness steps in the workplace is by asking mindfulness check in questions with actionable results. Questions you might ask are:
Do I have the time and space to….?

Meditate for five to ten minutes
Take a short walk and clear my head
Do some stretches to get my blood flowing
Disconnect from a work task while eating
Respond to emails/messages with intention
While these questions and the tools listed above are a great start, navigating the individual wellness needs of your employees can still be tough, and that's where Grokker comes in.
Grokker has your back
Grokker takes all the work out of workplace wellness with it's holistic and easy to implement approach. Our patented video technology focuses on behavior changing scientific approaches that aid in creating mindfulness resources that are right for your organization.
With a library of over 4000 fitness, mental health, nutrition, sleep, and financial wellbeing videos meeting a wide range of abilities, interests, and goals, your employees will never run out of ways to connect and recharge.
Employees at your organization can access Grokker form anywhere, on any device, and connect with any of our 130 master experts in the online Grokker community.
Grokker strives to eliminate the guesswork by providing your employees with custom recommendations, whether they have 5 minutes or 50 minutes.
We do the heavy lifting so you don't have to. We offer a real time reporting dashboard, interactive surveys to track employee sentiment and progress toward individual and overall company goals.
At Grokker, we like happy customers and we know that happy customers make happy employees. So meet your employers where they are and partner with Grokker today for your organization's wellness needs.
To find out more information about our holistic, cost-effective and easy to implement approach, check out our website and sign-up for a live demo today.