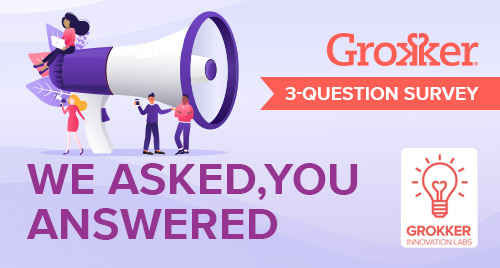 Grokker Innovation Labs — Grokker's research organization — is putting the finishing touches on research studies and events for the year ahead. We asked for feedback from HR leaders on the HR leadership topics that matter most to them and the speakers they'd like to hear from at webinars and roundtable discussions.
Thanks to everyone who completed the survey! Here's how you responded…
Q1 | What are the challenges you'd most like to discuss with other HR professionals? (Please select all that apply.)
Preventing job burnout and turnover — 75%

Supporting employees' mental health — 56%

Engaging and recruiting employees — 44%

Developing a more effective corporate wellbeing program — 44%

Improving diversity, equity, inclusion, and belonging (DEI&B) efforts — 25%
Here are a couple of "other" responses:
"Overall wellbeing"

"Communication strategies for wellness in large organizations"
Q2 | If your fairy godmother appeared and granted you the gift of knowledge on a topic, what would it be? (Please select all that apply.)
How to inspire and motivate employees — 69%

Supporting a hybrid workforce — 31%

Leading through change/challenging times — 25%

How to be a more authentic and empathetic leader — 13%

The increasing influence of the HR leader — 13%
Here's one "other" response:
"Innovation in wellness, having a robust wellness program with a small staff for a large organization"
Q3 | We're putting the finishing touches on an amazing schedule of webinars, workshops, and roundtables. Who do you hope to hear from in 2022? (Please select all that apply.)
Subject matter experts — 88%

Peers (other HR leaders) — 56%

Company leaders (e.g., CEOs) — 31%

Industry analysts — 25%
Here's one "other" response:
We've got you covered!
Grokker has several events in the works, so stay tuned for more information about upcoming roundtables, webinars, and new research projects and reports. But why wait? In the meantime, here are a few of our most downloaded resources you might enjoy:
Grokker Innovation Labs' 2021-2022 Frontline Industries' Leadership Sentiments Report. In this report, explore the research data and insights employers need to "get on the same page" as their workforce and support them in ways that help not just overcome today's challenges of burnout and turnover, but get ahead of the curve and start designing a brighter future for everyone.
Mental Health: Bracing for the Next Pandemic. In this webinar presented by Medical Consultant and Physician Advisor, Dr. Ron Leopold, MD, MBA, MPH and Grokker's VP of Business Solutions, Dan Graovac, you'll delve into the latest medical insights and HR trends to help you understand how employees are experiencing mental and emotional distress and determine what workforce mental health support strategies are working best for top employers today.
Monthly Workforce Wellbeing Playbook. Updated on the 1st of every month, this at-a-glance, interactive calendar has everything you need to engage employees in their wellbeing, all month long. You'll find handy tips and videos, resources for celebrating key health and workforce wellbeing observances with your employees, and news and promotional assets for the latest and greatest Grokker programs, challenges, and special events.
Want more? Explore these other resources!