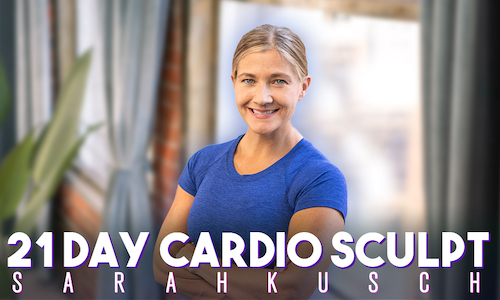 Grokker is always looking for new, exciting ways to delight and inspire our members to fit more movement and balance into their lives — and have fun doing it. That's why we are thrilled to announce the release of our brand new program, 21-Day Cardio Sculpt, with one of Grokker's most popular fitness experts, Sarah Kusch! This 3-week, full body program features dynamic cardio flows fit for anyone who wants to improve their fitness levels and tone their bodies in a fun, low-impact way.
Fitness Just Got More Fun
Adding to our library of over 4,000 wellbeing videos, we're excited to continue to support people's wellbeing needs on-demand from the comfort of their own homes, or wherever they find themselves, with effective and on-trend programs that people enjoy doing. Released on Monday morning, Grokker members are already loving "all the level options" and variations, describing the program as "a nice change of pace!"
Led by Los Angeles-based Certified Personal Trainer Sarah Kusch, 21-Day Cardio Sculpt includes a total of 12 workouts, with 4 workouts per week. Each week rotates through four muscle areas – whole body, core, lower body, and upper body – all while maintaining the accessible and easy-to-modify cardio flow that Sarah's followers love. Drawing on skills from barre and pilates to tone and sculpt muscles, Sarah integrates HIIT techniques to build strength and stamina components into the workouts, bringing fresh movements to each routine.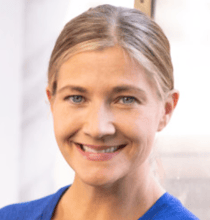 "No matter whether you're looking to tone and define, or balance out weight training with cardio and improve your flexibility, this program is designed to benefit everyone," Sarah says in her program trailer. As one of Grokker's most popular fitness experts, Sarah is NASM, ACE, AFAA, and Schwinn certified, with formal training in Holistic Studies. Her expertise, energy, and passion for helping people reach their fitness goals continues to inspire Grokker users every day: "What I really love is when somebody says 'I was having the worst day, and I wasn't going to do your workout. But I knew that you would make me feel better, and I'm so glad that I did!' How can you have a bad day when you're making people feel that way?"
As the Pandemic persists through the winter, employees are looking for new ways to get fit and healthy at home. 21-Day Cardio Sculpt gives people the opportunity to reach their fitness goals, no matter their location or skill level. This fresh, friendly and exciting program meets people where they are at, bringing new fitness ideas, energy, and motivation back into the lives of every employee.
[Read More: Company Workout Challenges]
Check It Out!
At Grokker, we're continuing to work hard to bring your workforce the digital tools and resources they need to feel and perform their best. We're thrilled about what our new program can give your employees, and how it can support their overall wellbeing.