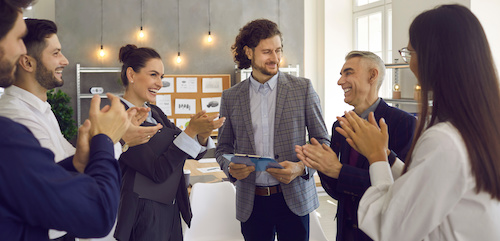 Employees do a lot for our companies. In fact, they're the backbones of our organizations. They're the people who turn visions into reality, who keep the wheels turning on your business and your customers happy.
It's important, in business and in life, to appreciate the people around us. Not only should you feel gratitude for all the work employees do, appreciation validates employees. It makes them feel seen and heard, and it creates the kind of company culture they can be proud to be a part of.
Below we'll look at why employee appreciation is important and how to show appreciation to employees in the workplace.
Why employees should be celebrated
So why should you celebrate your employees? There are a number of reasons as to why employee appreciation is important to both your employees and your business. What you'll find is that employee appreciation is a necessary part of building a healthy workplace culture that will enable your employees to feel better and be better in the workplace.
Employee appreciation increases productivity and engagement:

When employees are happier, they're more

productive and engaged in their work

. No one wants to work for a company that undervalues them or neglects their accomplishments. By making employee appreciation a priority, you're ensuring that you're doing your part to notice all the hard work your employees do for you day in and day out, which will encourage them to be more engaged.
Employee appreciation leads to loyalty

One of the biggest challenges for industry leaders is retention rate. High churn rates can be costly and take a lot of time to manage. You have to make due with a thinned out workforce and you spend a lot of HR resources finding and recruiting new hires. Happier employees who feel appreciated will stay longer with your company, which is essential for long-term growth.
Employee appreciation creates a strong workplace culture

Employee appreciation improves your relationships with your employees. By showing gratitude to your employees, you're creating an environment and atmosphere of value and kindness. Employees will feel valued in what they do, which in turn will allow them to be better individual workers and team players.
Employee appreciation creates a stronger brand

If and when employees do leave your company, they will likely speak and think highly of you as an employer if you value their work. This can lead to better brand recognition, greater referrals, and a reputation you can be proud of.
There really isn't a good reason why you shouldn't be appreciating your employees more. Fortunately for employers, there are a number of ways to show appreciation that won't cost you a fortune or take up large chunks of time.
Showing appreciation for your employees depending on your business size
Before we get into some tried tactics for improving your employee appreciation, let's break down some key differences between small and large businesses.
Because smaller businesses are more personable by nature, there are a lot more ways to get to know your employees on a one-on-one basis. This doesn't mean team leaders should be friends with their employees in a small business, it just means you have unique opportunities that other larger companies may not. Doing things like celebrating each employee's birthday, reaching out directly to an employee after a big business win, and spoiling your small office with lunch are all great ways to show appreciation in a personable manner.
For larger businesses, it's much harder to get that personal level of rapport. What you can do, however, is streamline and scale the appreciation process. This means more systemized ways of showing appreciation, like sending out gift cards on a larger scale or providing benefits programs that you can standardize and integrate into your general employee benefits package.
Smaller businesses can do more in-person acts of appreciation while larger businesses might need to rely on systemic award programs or large-scale appreciation benefits.
Employee appreciation tactics
Whether large or small, there are ways to integrate each of the below tactics to show your appreciation to your employees. You can show your appreciation through the following acts of kindness:
Wellbeing gamification is a great way to provide a digital resource that elicits and promotes healthy habits.

Digital gamification

helps encourage healthy habits by allowing employees to track their habits and, through reinforcement, learn to take accountability for their personal goals.
Everybody loves free food. If you have a small office, a Friday pizza day is just as popular as it was in Middle School. For larger companies, you can scale the act and give free discounts and gift cards to your employees' with their favorite restaurants.
When people have big business breakthroughs, you should celebrate those breakthroughs. Giving individual shout outs either in person or via email is a great way to acknowledge your employees' achievements and let the office know of their successes.
Employees will appreciate any kind of assistance you provide to their health and wellbeing, which is why offering a fitness program is an excellent way to show you care. Digital wellbeing programs offer access to fitness resources from any mobile device, which makes it more accessible and convenient than a gym membership or discount.
Another thing employees universally love is more money. Giving out employee bonuses to those select employees who go above and beyond is a great way to encourage employee engagement and show your appreciation at the same time.
Company parties are a simple, fun, and tested way to show your appreciation to your employees. You can hold parties for any kind of achieved benchmark or goal, and you can expect employee parties to bring your team members closer together and cultivate a vibrant workplace culture.
Employees in today's workforce are

stressed.

Chronic burnout, fatigue, and stress in the workplace is a real issue, and companies who offer wellbeing days or support through a wellbeing program will be appreciated. Employees who feel better work better, and integrating wellbeing days and other forms of wellbeing support will reduce the burden on workers and improve your overall efficiency.
Show your appreciation with Grokker
Show your appreciation to your employees with a comprehensive, all-in-one wellbeing solution, like Grokker. Grokker will help your employees achieve their fitness goals, nutrition and diet goals, sleep, mental health, financial wellbeing goals, and more.Talk to a Grokker expert to see how you can show your appreciation and empower employees to reach their full potential.