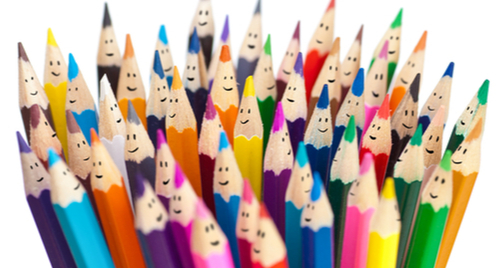 What is employee happiness? In jargony terms, it's a positive mindset enabling emotional engagement with one's company. Put simply, it's that pleasing, content state of being that makes an employee willing to "go that extra mile" while running with an idea or problem-solving. It's that special something that makes it possible for an employee to, say, write a blog post about employee happiness without rolling her eyes. You might say that employee happiness is the piece de resistance to employee Engagement (yes, that's Engagement with a capital E).
The concept of employee happiness is widely discussed and researched, expounded upon in myriad books, extolled as a business imperative. Of course it is! As an HR leader, you want your employees to be happy. They surely don't need to throw confetti around the office or smile their way through every meeting, but they need to feel satisfied, valued and even cared for; they want to be there and contribute their best. Contribute their best? Yes!
Employee Happiness Stats To Make You Happy
It seems almost silly to have to "prove" that happiness makes a positive impact in your workplace — or in your bottom line, for that matter — but there's no shortage of research to tickle your fancy. For instance...
Happy employees are 12% more productive. (University of Warwick)
Happy employees have 79% lower burnout and are 61% less likely to leave. (Wrike)
Improving employee happiness raises sales by 37% and accuracy of task completion by 19%. (Happier)
We'd be remiss if we didn't acknowledge that as employers, we can only hope to influence — not control — our employees' happiness quotient. An Engagedly blog post points to the work of Sonja Lyubomirsky, PhD, who found that we can thank our genes for 50% of our happiness and our life circumstances (family, health, etc.) for 10%. The other 40% is the result of our personal outlook — and this is where employers can step in with reinforcements.
What Makes Your Employees Happy?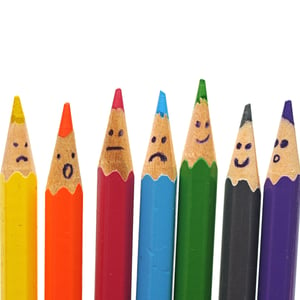 Getting the gist of why employee happiness matters is easy. Understanding what it takes to cultivate happier employees is a more complex undertaking because your course of action depends on what makes your organization (and your employees) unique.
It's never a bad idea to evaluate what else you can do to meet employee expectations related to benefits, wellbeing programs, career development, their work environment, and other cultural elements that influence job satisfaction. Not sure what they're expecting? Solicit their feedback — you might be surprised! Not only is listening to employees a phenomental way to show you care about their experience with your company, but it uncovers amazing opportunities to increase their happiness.
What's making employees unhappy or not as happy as they could be? Maybe they're already happy but would like to have a little more fun?
Where's the low-hanging fruit you can blend into your employees' work-life?
As you answer these questions, we have a great idea to inspire some happy vibes...
Celebrate Employee Happiness at Work!
Friday, March 20, is International Day of Happiness. Why not throw a "Happiness Day" party at your office locations? This year's theme is Happier Together, focusing on what we have in common, rather than what divides us. Not that you need an excuse to promote positivity, but there's a lot of doom and gloom in the world, and it's all too easy to get caught up in what's wrong and what needs to be fixed. So take this annual observance as an excuse to celebrate happiness. Here are some ideas you can put into action with very little planning:
Ask employees to take the Action for Happiness Pledge: "I will try to create more happiness in the world around me."
Cater in lunch, play some music, and give everyone an hour to enjoy each other's company.
Get a social media campaign going: encourage employees to post what makes them happy, what happiness means to them, and, of course, mark posts with #InternationalDayOfHappiness.
How Do You Increase Employee Happiness Through Behavior Change?
A single shot of happiness, like an office party, has lots of value in the short-term — but you want to encourage sustained happiness, right? That's where Grokker comes in. Our mindfulness and meditation content is designed to help people tap into their creativity, boost their confidence, and improve their productivity. Plus, it's easy and convenient for employees to access at work or at home, whenever they need positive inspiration and guidance.
Here are 3 of our favorite happiness-enhancing programs that can everyone can enjoy: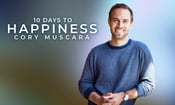 In Cory Muscara's 10 Days to Happiness program, participants learn short, simple mindset exercises that will allow them to cultivate daily happiness and overcome periods of feeling a little down. Each video guides them through a different area of focus, from letting go of worry to finding pleasure in simple activities and celebrating achievements.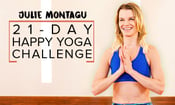 Julie Montagu's transformative 21-Day Happy Yoga Challenge program treats participants to the combined practice of yoga and mindfulness exercises that can lower stress levels, promote self love, increase body confidence, and lead to more happiness each and every day.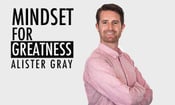 Mindset for Greatness with Alister Gray is the go-to program for employees who want to learn practical and effective mindfulness techniques allowing them to better observe the self-defeating patterns that are holding them back from reaching their personal and professional goals. Talk about doing some great work to feel happier!
Introducing your employees to fun, good-mood-promoting content like this will inspire them to use Grokker across all areas of their life — fitness, mental health, nutrition, sleep, and financial wellbeing — for well-rounded happiness and health.
Want more tips like these?
Get your free copy of our 2020 Workforce Wellbeing Calendar, your month-by-month resource for wellbeing program success in 2020.