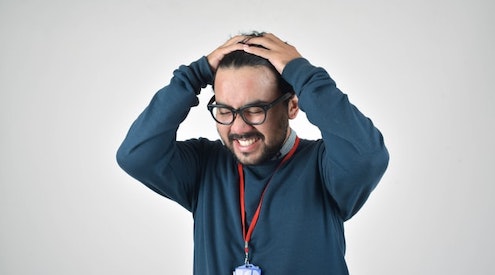 Identifying workplace stressors ranks among the crucial issues facing modern industry leaders. Fast-paced technologies and increased drives to complete more tasks at a rapid pace prove counterproductive in the long run. That's largely because frontline workers experience symptoms of stress, anxiety, and develop an aversion to being at work. Today's thought leaders have a unique opportunity to pivot away from outdated models that pretend workplace stress doesn't hamstring the organization. By identifying workplace stressors and making positive change, organizations are better equipped to succeed.
What are Workplace Stressors?
For business leaders to create a healthy work environment, it's crucial to understand the mechanics of stress and stressors. Stress represents a basic human reaction to a situation or set of circumstances. People can have a vastly different emotional and psychological response to the same item. This facet tells us that one team member can have a uniquely personal feeling of stress while another may not. While company leaders cannot necessarily account for everyone's background and triggers, common ground does exist in terms of workplace stressors.
There are situations, expectations, physically present items, and methods of communication, among others, which would elicit negative feelings from a significant percentage of the workforce. For example, sitting in traffic while you are late for an important meeting typically triggers stress and anxiety. The Canadian Centre for Occupational Health and Safety notes that stress constitutes a "harmful physical and emotional" workplace response. That's why compassionate business professionals are tasked with identifying these emotionally rough points and smoothing them out.
[Read More: Stress in the Workplace]
Common Workplace Stressors
Employers who empathize with staff members may have opportunities to effectively micromanage certain stressors for people who work directly for them. These may involve deeply personal triggers. But on a broader scale, caring leadership targets commonly known workplace stressors. By addressing the following, an organization enjoys a healthy perception that it's a safe place to thrive.
Unreasonable Deadlines: Ranked among the most well-known type of workplace stress, some employers still push people to the brink with unreasonable expectations. When not provided enough time to complete a task, loyal employees may be prompted to take work home or put in unpaid overtime. This situation turns into a perfect storm that leads to employee burnout and excessive attrition.
Multi-Tasking Expectations: The notion that some human beings can "multi-task" and others cannot remains something of a myth. As far back as 2010, resources such as the Harvard Business Journal pointed out that this so-called skill actually makes people

"less effective at our jobs and lives

." Throwing too many duties at a team member results in reduced productivity, increased mistakes, and an overall subpar performance at no fault of their own.
Lack of Resources: For hard-working people to complete a job on time, they need adequate resources and tools of the trade. Those working in most offices have become reliant on cutting-edge technology. When these or other tools do not function at a high level, the person responsible for getting a job done may feel powerless and frustrated.
These highlight some of the common workplace stressors that exist in too many organizations. It's not uncommon for some to be shrugged off as just part of the job and others may persist because they have deep roots in outdated business models. But as thought leaders become increasingly cognizant of workplace stressors, they begin to recognize more subtle ones.
Potential Stressors in the Workplace
By understanding the emotional weight of company policies, practices, and expectations, heartfelt empathy for others being thrust into an untenable situation proves useful. These rank among the potential workplace stressors sympathetic decision-makers can minimize or eliminate.
Miscommunications and Unclear Messaging
Loss of Control Over Outcomes
Unclear Job Performance Expectations
Hostile Work Environments
When business professionals develop mindful leadership skills, they are better equipped at predicting workplace stressors.
Personal Stressors in the Workplace
It's important for administrators and supervisors to understand that everyday people come to the team with personal stressors. These usually result from events or conditions that occurred in their personal lives. Affecting their health and wellbeing, personal stressors can impede an employee's ability to negotiate certain elements or types of interactions. Attentive, mindful oversight helps identify a valued team member's stressors and that opens the door to solutions.
Physical Stressors in the Workplace
Physical workplace stressors should be taken extremely seriously by employers. These may involve a vital employee experiencing biological symptoms that mirror illnesses and conditions. Stress may result in a person suffering things ranging from a mild headache to extreme presentations that involve a panic attack. When members of an organization show telltale signs of feeling unwell at work, there may be an underlying cause that needs to be addressed.
Environmental Stressors in the Workplace
Not everyone handles the diverse landscapes they complete tasks in with the same level of comfort. People who work in a manufacturing plant may need to possess the conditioning to manage loud noises and potentially hazardous tasks with minimal stress and anxiety. By that same token, people who function with heightened sights and sounds may not be suitable to deal with overly competitive workplaces. It's essential for company decision-makers to reduce environmental workplace stressors as much as possible and also put people in a position where they can succeed.
Strategies for Dealing with Workplace Stressors
Reducing workplace stressors ranks among the critical issues for management teams to address. In essence, improving conditions requires a top-down initiative based on mutual respect. It also calls for developing mindfulness skills and strategies that increase a leader's ability to walk in other people's shoes. These are ways to implement healthy interventions.
Clarify Company Goals, Expectations, and Provide Clear Messaging
Listen to Team Members' Needs and Deliver Necessary Resources
Audit the Workforce Regarding Time Management and Deadlines
Watch for Telltale Signs Valued Employees are Suffering from Stress
Match People's Skill Sets with Positions They can Succeed
Eliminate Environmental Stressors When Possible
It's also crucial to not overwhelm staff members by tasking them with workloads that require overtime or taking work home. It's not unusual for loyal employees to set aside their need for downtime to help the organization achieve goals. In the long run, this take-one-for-the-team strategy often proves counterproductive in terms of emotional health and wellbeing.
That's why more companies are encouraging their teams to take breaks and address self-care, whenever they need to. By providing employees with on-demand content that helps them manage stress, Grokker helps make workplaces increasingly healthy and organizations more productive.
[Read More: How to Prevent Employee Burnout]
Determined Thought Leaders Can Reduce Workplace Stressors
The notion that business leadership was limited to maximizing worker productivity regardless of health and wellbeing is no longer viable. Workplace stressors result in reduced productivity, emotional insecurity, and companies using outdated corporate models are more likely to experience attrition. When decision-makers enhance their mindfulness skills and compassionate leadership, organizational health improves and everyone wins. To learn more about leading with mindfulness, check out our article on Mindfulness at Work.