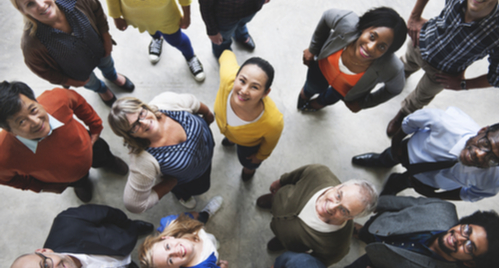 It's a new year — a new decade! — and we hope your workforce wellbeing program is already making a splash with employees. Now is the time to get people excited about your 2020 activities and kick off a happy and healthy year. We want you to make the most of your workforce wellbeing initiatives so your employees engage early and often. That's where delivering personalized experiences fits in.
Grokker Insight: Deliver Personalized Experiences!
Wellbeing is personal, so make it easy for your employees to participate in your wellbeing program based on their unique needs, interests, abilities, and goals. A word to the wise: don't think that everybody is the same. You really have to understand your diverse population. Take these three employees, for example:

Sarah: Trying to balance it all. Enjoys biking and yoga, but struggles with:
- pre-diabetes
- prone to headaches
- stress of parenthood

Dan: Burning the candle at both ends. Runs marathons but struggles with:
- anxiety
- poor nutrition
- sleeplessness

Rich: Feeling limitations as a weekend warrior. Active with family but struggles with:
- high blood pressure
- knee pain
- zero interest in the gym
Each employee has a different lifestyle and suffers (to some degree) with balancing work life with family life and self-care — struggles that shift by the day, by the way! — so its important that they can find opportunities for personalization within your workforce wellbeing program. If they can participate according to how they're feeling, how much time they have, and what they're simply in the mood for, they're more likely to engage.
Since wellbeing means something different to everyone, consider:
Launching a topic-based wellbeing challenge in the first quarter, where employees choose from 1 of 4 areas of focus (whatever matches up with their goals). Challenges, especially in the beginning of the year, are a great way to get employees involved in your program — and they're a fun way to kick-off ongoing engagement.
But it's important that challenges resonate with employees' varying goals so they're motivated to sign up and follow-through. Of course, not everyone wants to walk 10,000 steps a day or lose weight. Provide a few different goal options to maximize participation and keep people interested for the long-haul.
Providing resources across the key lifestyle areas of fitness, nutrition, sleep, and mindfulness. People's wellbeing needs change frequently — sometimes several times a day. Today, they may want to work out in the morning, meditate in the afternoon, and calm down with a soothing sleep video. Tomorrow, they may only have time for a stress-busting mindfulness session. Since you can never be quite sure what they'll need, it's important to empower them with a variety of tools, like Grokker, they can tap into whenever they need to, no matter what they need.
Grokker's all-in-one solution supports and engages each user in ways that fit them and their circumstances, integrating all 5 dimensions of wellbeing: fitness, mental health, sleep, nutrition, and financial wellbeing. Employees are given personalized plans and recommendations based on their individual wellbeing quiz results, health and wellness goals, topic preferences, skill levels, time availability, and viewing history.
Leveraging the Grokker Wellness Quiz (or whatever wellbeing assessment you're using) to help employees identify their unique needs and track their personal progress. Grokker's quiz works this way: The first time an employee signs-in, they answer a series of questions about their nutrition and fitness habits, sleep hygiene, and stress level. We use that information to define their current "wellness personality" and provide tips and personalized content recommendations to get them started working towards their goals. This also helps them prioritize meeting their most "pressing" wellbeing needs with the most impactful programs and videos right out of the gate.
Want more tips like these?
Get your free copy of our 2020 Workforce Wellbeing Calendar, your month-by-month resource for wellbeing program success in 2020.