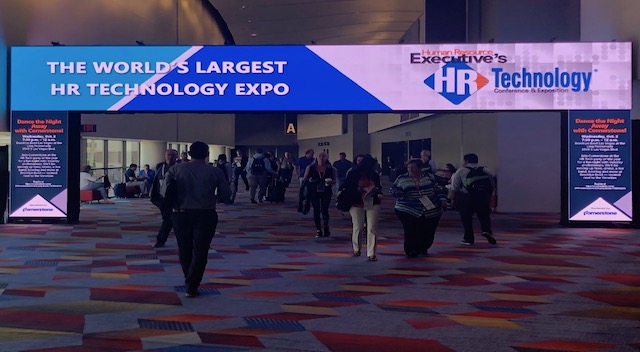 If you're an HR leader interested in soaking up all-things workforce and technology, the Venetian Resort in Las Vegas is where you'll want to be this week. But if you didn't make the trip to this year's HR Tech Conference and you're hungry for the latest and greatest in the area of workforce wellbeing technology, we've got you covered: Grokker is here to share the top insights we're taking away from each day of the event.
To be fair, HR Tech is the largest expo of its kind, with a jam-packed agenda, not to mention over 450 vendors eager to share their solutions. It's close to impossible to soak in everything, let alone create thoughtful blog content! We'll do our best to share our take on what's driving change and innovation — and what's most inspiring to us — as we seek to help employees live happier, healthier lives, in and out of the workplace.
Let's get down to it!
Day 1: The Women in HR Technology Summit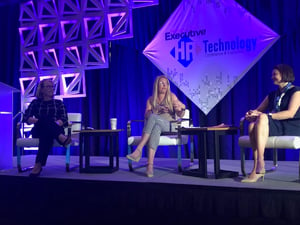 The conference kicked off with sessions focusing on the issues organizations need to consider while nurturing inclusive cultures that meet the unique needs of women. Grokker's Founder and CEO, Lorna Borenstein, led a panel discussion featuring Limeade's Chief People Officer, Laura Hamill, and LeaveLogic's CEO, Anna Steffeney, that spoke to women's propensity for burnout — a phenomenon largely driven by their responsibilities outside of the workplace. In The "Second Shift": Women and Well-Being, the panelists explored the ways employers can support the women (and, to be sure, many men) whose work day doesn't end when they leave the office.
The panelists quickly established that it starts with the C-Suite (or even one "champion" executive) acknowledging the fact that "second shift" duties such as child care, elder care, and housework can get in the way of self-care and contribute to stress that can impact employee engagement, retention, productivity, and, ultimately, the bottom-line. But it's about so much more than the bottom-line, or the cost-savings that HR leaders are counted on to produce; moving forward, agreed the panelists, companies are going to put more and more equity in caring. How? It comes down to building a supportive culture.
Company leaders can help normalize conversations by "parenting loudly" to show that their employees aren't alone when it comes to struggling with work/life balance. When executives and managers demonstrate authenticity — they wonder out loud, for instance, what they're going to make for dinner or problem-solve picking up a child from school — their employees can breathe a sigh of relief. They will feel more comfortable expressing the realities of their own lives without fear of judgement.
HR leaders, specifically, should ask employees what type of support they need with respect to work schedules, maternity/parental leave policies, and wellbeing benefits. The panelists stressed that every person is different — different life stages, health issues, personal interests and preferences, stressors, financial concerns, etc. This means that benefits need to be at once holistic, flexible, and accessible, helping employees address the areas of their lives most in need of support, from sleep and stress management to movement and nutrition. Coupled with caring, when employees are given the resources they need, employers are there for "moments of truth" that define an employee's experience.
Day 2: Wellbeing at the Expo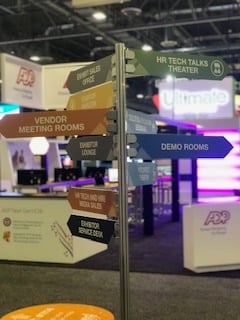 Today, conference attendees had a full day of conference sessions to choose from -- and vendor/exhibitors, like Grokker, had a full day of networking with booth visitors. We enjoyed meeting HR professionals from a wide range of organizations and HR disciplines, and, of course, introducing them to our digital workforce wellbeing solution. But Grokker isn't the only wellbeing vendor at the expo. Here are a few (other) notable exhibitors sharing wellbeing tech solutions:
Care@Work by Care.com. As discussed in yesterday's The "Second Shift": Women and Well-Being session (see Day 1), many employees have caregiving responsibilities outside of work. These may involve children, aging parents, pets, and the home. But what happens when there's a disruption -- a child gets sick or a nanny goes on vacation -- that threatens an employee's ability to show up at work and give their "all?" This is stress-inducing for employees, and costly to employers. That's why forward-thinking companies are partnering with Care@Work to provide their employees with access to back-up care and senior care planning services when they need it.
Carrot Fertility.

Supporting fertility care, surrogacy, and adoption,

Carrot is a simple and affordable way for companies to customize fertility coverage for employees -- a competitive benefit that more people are beginning to see (and expect) in the employment marketplace.

What's more, it's a

remarkably inclusive benefit, as Carrot is available to all employees regardless of age, sexual orientation, gender identity or marital status. Fertility affects both sexes equally, and employees who are starting families often need help navigating the "system," whether they're pursuing adoption, egg freezing, semen analysis, genetic testing, or other methods to support their journey.




Pivot. Here's a smokin' great idea: make it easier for smokers -- often a fiercely independent group of people who may have already "tried everything" to quit smoking -- to understand their behaviors and learn new ones, on their terms and in their own time. Pivot's solution uses a breath sensor device that pairs with an app, and gives users access to personal coaches and other resources, to help them quit (for good). The health risks of smoking, and the related healthcare costs, are no mystery to anyone, including the smokers themselves. But this tool aims to turn awareness into action.
Offering tech-led benefits like these can make a big impact on recruiting, retention, and engagement. But maybe more importantly, it's an important way companies can show they understand the very real, human, everyday challenges of balancing work and life, and managing very personal health and wellness goals.
At the show? Visit Grokker in booth 1758! Take a seat, rest your feet, and join our Rest & Recharge Challenge, an exclusive wellbeing challenge for NBGH Workforce Strategy 2019 Attendees.
Day 3: Attendee Perspectives on Workforce Wellbeing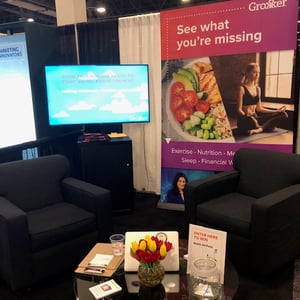 For three days, the expansive HR Tech exhibition hall drew a flurry of activity: networking, learning, pitching, swag-shopping, eating and drinking, and even petting kittens from a local humane society. And lots (and lots) of walking. While we didn't personally connect with every conference attendee -- there were 450 vendor booths to peruse, remember -- we spent time chatting with people who were specifically interested in workforce wellbeing tech and what Grokker brings to the marketplace.
We were listening carefully to what they were saying. What wellbeing initiatives are working for them? What motivates their employees? What's missing from their existing programs? What changes in their organizational dynamics are impacting their approach to helping employees feel their best?
Here's a summary, in no particular order, of what we learned -- and what we're taking away from the show to share with our team:
Technology is changing everything. (Isn't that what HR Tech was all about?) Wellbeing programs are becoming infused with data points and HR leaders are still learning how to wrangle them, make sense of them, and use them to make strategic decisions. We're talking about more than activity trackers, too. Companies want to know who's engaging in which programs, when, and where; employees want digital access to tools (and yes, flexible activity tracking) so they can engage at their convenience. Which wellbeing solutions tie it all together?
Personalization, personalization, personalization is where it's at. We're using that buzzword three times because that's how critical it is for wellbeing programs to deliver -- wait for it -- personalized experiences. Technology enables the level of personalization program admins and employees expect. People want "intelligent" solutions that get to know know them and can make recommendations based on their personal profiles, quiz assessments, user activity, and preferences.
A corporate focus on wellbeing supports a winning employee experience. More than just another buzzword spoken thousands of time across the conference, employee experience is HR's holy grail! It describes the sum total of people's interactions with their employer, from touch-point to touch-point (many of them digital), incorporating culture and mission and that all important to building a successful relationship -- yes, relationship -- with their brand. People want to feel cared for and know that their employer understands their needs inside and outside of the office, so wellbeing benefits, tools, resources, and culture (that's a biggie) are central to the equation.
Employers and employees agree: make wellbeing programs holistic. Holistic. Yes, another buzzword. But like all other buzzwords, it's a buzzword for a reason. Grokker booth visitors almost unanimously lifted their eyebrows, smiled, and said, "ahhh" when we explained that our solution provides content across the spectrum of wellbeing: nutrition, fitness, mindfulness, sleep, and financial wellbeing so that people can tackle interconnected health goals simultaneously. (It's holistic.) Employers have gotten the message that health and wellness mean something different to everyone -- and you can't please everyone with an on-site gym, a 10k step challenge, or a weight loss program. Cover your proverbial bases and make it easy, via technology, for each employee to find what they need, when they need it, and in whatever combination they want, to feel their best.
Until next time...thanks to everyone we met at HR Tech for a wonderful week. We hope you learned as much as we did. And to everyone we met at our booth, we look forward to sharing more with you soon! In the meantime, explore our blog and resources -- or tune into GrokkerTV! -- for more insight and inspiration.