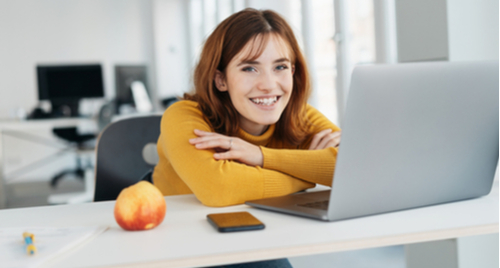 Against the backdrop of a global pandemic, the world in which we live and work has been turned on its head. The lines between work-life and home-life are blurred, parents with children underfoot are overtasked, and choosing between the family who needs them and the work that sustains them has become a daunting, daily task for nearly everyone.
It's certain that this personal anxiety, stress, and even trauma is having an effect on the workday. In fact, over half of employers anticipate major changes to culture as a result of the pandemic. How can companies leverage this environment of uncertainty as a chance for good? What does it look like when company culture is synthesized across the work and home environments and focuses on the employee's whole being?
It looks like a culture of wellbeing.
A Culture of Wellbeing: Bringing it All Together
Company culture used to be loosely defined as how people act when the CEO is out. But not now. Company culture has become a complex smattering of the way employees speak, act, and dress, the values a company holds — even the brand initiatives they undertake. But this one-to-many definition of company culture isn't very effective at driving productivity when the last thing on an employee's mind is abiding by the company's style guide or taking advantage of the free energy drinks in the fridge.
[Read More: Sense of Belonging at Work]
An effective workforce culture is now a living breathing entity that an employee carries with them seamlessly through both worlds 24/7. It is not a one-to-many edict, but a carefully crafted and individualized promise a company makes with its employee — to help them live a better life, and to participate in a culture of health and wellbeing — their own way…every waking moment of their lives.
A Culture of Wellbeing Has Found Its Opportunity in This Time of Crisis
Even though it's impossible to have an answer to everything right now, your employees are looking to you for answers. They feel unsteady and unsure navigating this new environment. And so do employers. According to SHRM, more than one-third of employers are challenged with maintaining company culture during the pandemic themselves.
What if there were a way to reassume some of that control your employees want in their lives and that you want over your bottom line? What if your wellness program was a central source of that control?
We've updated all we know about building a culture of wellbeing (including ideas from other leading companies!) and put it into a guide that's quick and easy to read: The Culture Connection: Workforce Wellbeing and Organizational Success in Times of Uncertainty.
Explore:
How to design your benefits program (along with thoughtful messaging) by really listening to employees and embedding opportunities for their feedback in activities they already participate in.
How to actively develop and nurture your company culture by linking

your company's mission to your employees' everyday lives.

How you can give credibility to your wellbeing culture by ensuring that people from the top down are visibly living

your company values in their policies and actions.
Today's the day to not only strengthen your workforce culture, but to look at it a whole new way!