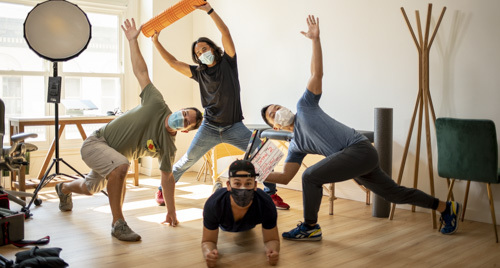 It's been six months since the initial shelter-in-place orders were given in March — and that means it's been six months of uncertainty and asking the question, "What am I supposed to do?" But as the Grokker team looks back, it's been a six month long opportunity for personal reflection and growth, as individuals and as a business. Naturally, we were asking each other, "How can we keep producing meaningful wellbeing content while working from home?"
We can't help but remember the worry that sat in the pit of our stomachs, and the burning question that crossed our minds: What's the best way to support our users during this extraordinarily challenging time? As a company whose goal is to provide video-based wellbeing resources anytime and anywhere, we knew we needed to continue filming and distributing new, relevant content when people needed it most.
Fortunately, we are beyond thankful to have the most dynamic, innovative film producer on our team, Chris Kurose (shown on the left of the post photo). As we were committed to figuring out how to best support our clients and their employees, Chris was determined to find new ways to produce videos not just specific to wellbeing, but content designed to help people cope with the changes and unrest that Covid-19 brought upon us. And here, he is more than happy to provide us with some insight into his vision and journey as he navigated the world of content production amidst the pandemic.
What were the biggest challenges when filming during shelter-in-place?
The first and most pressing obstacle was that we could no longer go on set to shoot videos. Everything needed to be filmed, edited, and produced at home. Another challenge was figuring out what type of content employees wanted to see. Prior to Covid-19, our content was heavily based on consumer analytics, such as surveys that allow our clients to voice what types of content they'd like to see. The issue that arose in March was that this process takes time, but we wanted to distribute relevant information as quickly as possible.
These were unfamiliar, unprecedented times, so how did you proceed?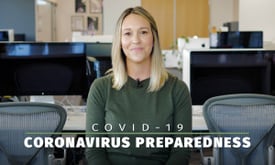 Our team really had to think outside the box and react quickly to what we were seeing in the news, and with our clients. We produced multiple videos relating to Covid-19, of which two videos quickly rose to the top of Grokker's "Most Viewed" category. Over the next few months, we continued to produce content that was not only centered around the five dimensions of wellbeing, but also included relevant Covid-19 tips and resources.
Will you share an example of how you achieved this?
The first of this sequence was Nutrition For Sheltering in Place by Dietitian and Exercise Physiology expert, Chris Mohr. The idea behind this program was to give consumers advice on cooking and grocery shopping during shelter-in-place. We wanted the videos to provide tips on shopping for 3 weeks at a time and planning meals far in advance. Instead of being able to just pick up food on the way home from work, people now had to space out when they'd venture out to the store.
We began realizing that people had questions such as, "What can I buy that won't spoil, but is also healthy?" and, "What if the store is out of flour, what substitute can I use?" Once we established the content, the issue was how to film it virtually. So we decided on an idea we had a while back: a talk show style that most celebrities were using to get video messaging across.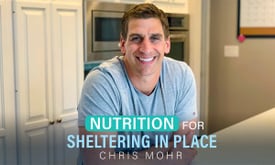 The final product, Nutrition For Sheltering in Place, provides a multitude of ideas on brainstorming healthy, nutritious meals for the entire family, while also avoiding a trip to the store every week for fresh produce. From shopping tips to substitute ingredients, expert Chris Mohr illuminates the nutritious possibilities of healthy, shelter-in-place cooking. This program quickly rose to the top of the Grokker viewing list, which was proof that Covid-19 material was not only relevant, but necessary, and led into our next (and my favorite!) program in the sequence.
What's your personal favorite series that you produced during this time?
Happy & Healthy at Home because it really combined all the components of holistic wellbeing — mind, fitness, nutrition, sleep, and financial wellbeing — into relevant, Covid-19 content that people could use as a resource. It was something new, something I'd never tried filming before, and gave people tools and resources to cope during the pandemic. In Happy & Healthy at Home, Dr. Kara Mohr, Behavior Change Expert and Doctorate in Exercise Physiology, provides tips and ideas to help viewers feel their best selves at home.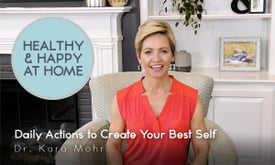 Dr. Mohr explains concepts such as "movement snacks" and talks about why moving your body while working from home is so critical to your overall wellbeing. In this ten video series, she also explains techniques to help improve sleep patterns, reduce anxiety, implement healthy eating, and most of all, explains how to transform these actions into healthy everyday habits.
As the world slowly settles into this collective feeling of a "new normal," how are you moving forward?
I've begun to focus our production content towards other aspects of wellbeing. We recently released Grokker's Spending Reset program, and we're looking forward to launching a musculoskeletal program in October. I'm excited to be filming and producing some new, refreshing content, including a High Intensity Fitness program to be launched in November, because of the increased viewing of high intensity fitness we saw during lockdowns.
From shelter-in-place meal planning, to resilience meditation, to incorporating physical movement into daily routines, we are incredibly thankful for the dynamic, innovative work Chris and his team have done to bring timely ideas to life!