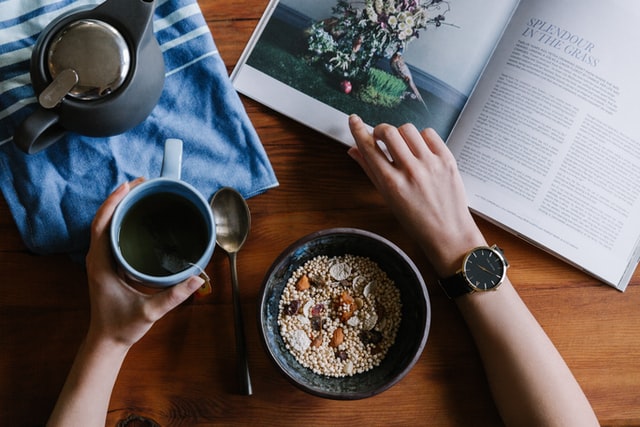 The key to healthy living is to create healthy habits, which are the collection of things we do, day in and day out, to ensure that we're mentally sharp, physically activated, well-rested, motivated, and inspired to take on all of the necessary tasks that make up our often busy lives.
The not-so-healthy routines that we end up falling into as a result of our busy work schedules, our obsession with technology, and the stressors that make up our daily life simply aren't conducive to mental health, wellbeing, or productivity at work.
In the United States, nearly 60% of workers were cited as being in the high-stress category. Over 40% of workers said that they lose 30 minutes of productivity a day due to stress, and 36% said that they lose at least one hour a day of productivity due to stress. On top of that, an Asurion study showed that Americans check their phones once every 12 minutes, or over 80 times a day.
If companies want the best for their employees, and subsequently the best for their businesses, they need to create the kind of work environment that negates bad habits and encourages healthy habits.
Below is everything you need to know about how to promote healthy daily routines that have a positive impact on your company and employees' wellbeing.
Daily exercise challenges
One way to encourage and imbed healthy daily routines into the workplace is through daily exercise challenges. There are a myriad of ways to incorporate daily exercise challenges and incentives into your workplace and through a wellbeing platform. These kinds of recorded exercises can help employees stay on track and motivated to accomplish their fitness goals.
You can encourage employees to stick to their daily exercise challenges by:
Utilize a

gamification wellbeing

platform that relies on rewards systems, digital triggers, and tracking capabilities to keep employees engaged and motivated in their fitness goals. Especially when trying to gain a new habit, it's important to support and reinforce the behavior in a fun and engaging way, like through gamification platforms.
Challenges and incentives - Challenges and incentives rely on both hyper-personalized health commitments and healthy competition to provide a multifaceted approach to incentives. Workers can focus on their own, unique goals while also benefiting from the camaraderie and sense of competition from group-oriented events and challenges.
Morning yoga or stretches - Why not bring the benefits of daily exercise directly into the office? Every day, you can hold a 15-minute yoga or stretching session to start the day off right and get your employees moving.
Offer video lessons - More and more companies are beginning to offer and implement wellbeing remote solutions into their health benefits packages. This allows employees to benefit from lifestyle-enhancing videos and lessons from the comfort of their homes.
There's more than one way to encourage healthy daily routines and habits to your employees, and by offering multiple ways for your employees to fall into healthy habits, you're ensuring that there's something for everyone in the office.
Integrate daily tips, tricks, and words of admiration into the office
There are so many things that go into ingraining healthy daily routines into your employee's schedules, and posting tips and reminders throughout the office is a great way to create a positive work environment that enables employees to stick to their habits. Additionally, you can integrate these kinds of reminders into emails and meetings.
Ways you can create more supportive environment can include:
Having a white board where you post healthy tip of the day reminders to employees
Posters or infographics that underscore the importance of eating well, drinking enough water, and getting enough sleep every night
Mindfulness images spread throughout the office that encourage employees to breathe and take small breaks throughout the day to recharge
You can email daily lessons and tips, and you make a point to remind employees to stick to their daily goals in meetings
Provide an open white board to all your employees so they can share their own tips, reminders, and words of affirmation
Create a Google Doc or area in the office where employees can share their wellbeing and health-related accomplishments with the rest of the office
The point here is simple: you want your office to be a place conducive to forming and sticking to healthy habits, and you can create that kind of environment by utilizing digital and physical space to support your employees in their wellbeing goals.
Integrate work from home routines
With wellbeing solutions and digital platforms, you can encourage employees to stick to their goals with a work from home routine. Remote solutions can offer videos, lessons, tracking capabilities, reward systems, and more!
Your employees will appreciate the ability to work on their health and wellbeing goals anytime, anywhere, and you'll appreciate employees who come to work recharged, revitalized, and ready to carry out their tasks.
Grokker empowers employees to stick to their healthy daily routines
Grokkers comprehensive, state-of-the-art wellbeing engagement solution allows employees to stay on track with their healthy daily routines. The all-in-one wellbeing platform can be accessed anytime, anywhere, and can help your employees achieve their wellbeing, fitness, nutrition, sleep, financial wellbeing, and healthy-living goals.
Provide the support your employees need and want with Grokker today.