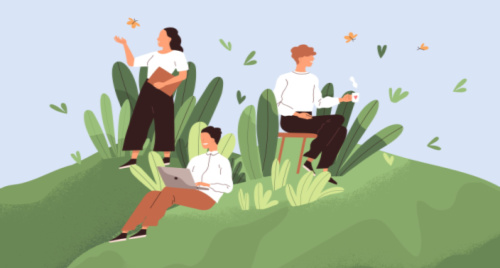 In talking with HR leaders at companies with large, diverse and dispersed workforces, the conversation rarely fails to touch on the fact that no matter how great the wellbeing benefits offered, some employees can't "get around" to using them. The social health and wellbeing network that helps employees at global enterprises to move more, sleep better, eat more healthily and reduce financial stress. Our CEO's book, It's Personal: The Business Case for Caring, thoughtfully examines the Human Connection Movement™ in the workplace, which is fueled by a growing desire among employees to feel more connected to one another and as a result, better connected to their jobs.
It's fascinating, as companies typically adopt resources at the employees' request. Employees have explicitly asked for tools to support their work/life balance, physical health, mental health, financial wellbeing, etc., and there's such demand among job candidates for a comprehensive slate of whole-person wellbeing benefits that top employers are overhauling their benefits tech stacks to offer a competitive employee value proposition.
Why do engagement levels with these resources tend to fall below expectations? Without looking at specific wellbeing solutions, we've identified a handful of crucial things that are actually keeping employees disengaged from the wellbeing benefits put in place to support their work/life engagement.
Self-care stigma is entrenched in the culture
When burning the candles at both ends is the office norm and pushing through stress is rewarded, it's understandable why employees may be shy about taking a lunch break, let alone a mindfulness break. Stigma absolutely impacts how employees engage with wellbeing resources because they fear that using them will make them look bad.
Understanding where these cultural attitudes take root is an important step in changing them. It requires acknowledging that stigma is often ingrained in our culture as people and as a company, and urges us to take actions to make self-care an acceptable and even celebrated part of our workforce cultures. Some thoughts to consider when dismantling self-care stigma:
Employees may be struggling — and just don't want to admit it.
In a study conducted by MentalHelp.net, 53% of respondents agreed that people are generally not caring and sympathetic toward people with mental illnesses. It's no wonder that many are reluctant to tap into employee resources to address their personal mental health challenges.
These challenges need to be normalized, and the HR team can get the ball rolling by sharing mental health facts and resources, hosting workplace wellness training for employees, and encouraging both managers and workers to take the time they need to manage stress, talk to supervisors about unwieldy workloads, and, of course, seek the professional and self-care they need to feel their best.
Generation gaps get in the way.
It's well-known that, thanks to deep-rooted cultural stigma dating back decades, older generations are less likely to value investment in workforce mental health and wellbeing. According to a recent study from LinkedIn, the youngest workers appreciate and value mental health support more than their older counterparts. While 66% of Generation Z believes that companies should put more resources into mental health and wellbeing to improve company culture, only 31% of Baby Boomers agree. In the middle stand Gen-Xers (41%) and Millennials (51%).
From a tactical point of view, if age-based mental health stigma is a problem at your organization, it helps to open up dialog with employees about the benefits of creating a culture that values overall wellbeing, with mental health as a key tenet. One idea is to create a multi-generational committee to identify the benefits that will meet employees' needs and determine the promotional mix (e.g., home mailers, company intranet, social media) that will reach and resonate with different employee groups. Based on recommendations from the committee, you can start incorporating stigma-busting wellbeing messaging into your workforce communications and learn how to connect with employees of different age groups more effectively.
These are just a few examples of what employers can do when they find themselves in a stage of uncertainty and need to address challenges head-on. This stage is also what is called the Pruning stage the 3-Tiered Stratification Model™ in the book It's Personal: The Business Case for Caring. It is during these times of uncertainty when managers need to ensure their existing team's needs for flexible benefits are being met with solutions that help employees manage their everyday lives (and are available at a relatively low cost).
Company leaders aren't leading by example.
When it comes to de-stigmatizing workforce wellbeing, executive buy-in is a non-negotiable piece of the puzzle. And it bears noting that the generations that are less likely to understand the gravity of not offering mental health benefits are more likely to hold executive positions. Strategically, it's critical to convince even the most skeptical decision-makers that investing in mental health is essential for company growth. Hit them with the hard truth: they can't deliver stunningly consistent companywide results if their people aren't holistically well, and they certainly won't attract and retain top talent without offering the whole-person wellbeing support people expect. A workforce of simultaneously tired, stressed out, and unhappy people will not — can not — deliver stellar outcomes.
Employees need to feel like they're in a safe space to take action without fear of retaliation or judgment. Leadership's willingness to "walk the talk" and actively encourage employees to take the time they need to take care of themselves makes a big difference. Company leaders must use and share the resources they want employees to tap into. When executives are open about their struggles, they help create a culture of transparency that includes conspicuously taking time for self-care. They give their teams permission to follow suit. Encourage leaders to use team meetings and social messaging channels as opportunities to talk about the importance of mental health and the availability of employer-sponsored wellbeing tools.
Systemic staffing and workplace culture issues prevent self-care
Often organizations expect employees to utilize wellbeing resources, but don't make it clear that team members have permission to use them if they're needed during work hours. For example, if employees have access to mid-day stretching videos or 5-minute mini meditations, they should feel free to enjoy them during lunchtime or a break without fear of reprimand. Grokker's Wellbeing Minutes™ reflect how many minutes of video one have watched on Grokker. The more videos watched, the more Wellbeing Minutes are earned.
Of course, systemic changes are required to give employees the time (literally) to take care of themselves. In some industries, like healthcare, frontline workers often have to choose between caring for a patient or taking a bathroom break. This scenario is extreme, but realistic, and it speaks to the pressure many employees are under to do their jobs when their teams are understaffed or customer demands are overwhelming.
While there's no silver bullet solution, at least in the short-term, expressing gratitude for employees' hard work and demonstrating your commitment to their wellbeing with resources they can access at the time of need (or outside of work hours) is a great place to start. Providing them with a sense of understanding and care may be exactly what they need to get them through until staffing and scheduling issues can be improved.
Employees don't know what's available to them, or resources are hard to access
As teams expand and benefits grow, it can be easy for employees to lose track of what's available. Awareness comes down to better communication, which is always a challenge for busy HR teams who put out a million fires every day. The fact is, everyone is busy — and most of us are already drowning in email and instant messages. But when a message is timely, relevant, and helpful, it's more likely to be read and acted upon.
Assuming your benefits mix aligns with what employees want and need in the first place, is there a one-stop-shop for using them? Today, most employee benefits are available (and even utilized) digitally. But if there's a dedicated page on the company intranet, for example, or a single sign-on for benefits access, it will be easier for employees to remember where to go and what to do when they have a resource need.
Companies can overcome these employee benefit engagement barriers.
You've identified what needs to be done, but inspiring transformational change will require selling this vision of a better future. You'll identify who your influencers and decision makers are, zero in on behaviors that can be nudged toward positive outcomes, and use the 10-Step Mini Deck Approach™ to present an outcome so compelling that they'll ultimately want to help you create it.
To start the process, you need to understand what's holding your workforce back: is it stigma, permission, or access? It might be a combination of all three. At a time when employee attraction, engagement, and retention are among the top organizational challenges, it's vital to get the communication and delivery of employee benefits right — for your company's approach to workforce wellbeing, in particular, can help you stand above the rest.