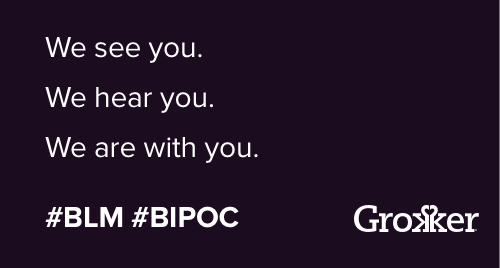 The last two weeks have been horrifying, overwhelming, and, sadly, illuminating. The tragic killings of George Floyd, Breonna Taylor and so many other Black Americans have taken us to a point of no return. It's not enough to feel outraged by the heartbreaking reminders of racism, both in the graphic videos depicting this indefensible racially motivated violence, as well as in the hate speech against Black, Indigenous, and People of Color. It's also not enough to want change.
As an organization, as a team, and as individuals, we will not be silent when it comes to justice and equality. We stand together to be the change. We see you, we hear you, we are with you.
Looking Within
Standing in solidarity with the protests, we're listening closely — and we're committed to taking ongoing action. While there aren't simple solutions to eliminating systemic racism or eradicating the intense pain and suffering felt by so many, we're doing what we can do, one step at a time.
Much like your personal Grokker journey, change starts with the first step. Ours was, as a team, taking a good look within Grokker and facing some glaring facts to understand where we have fallen short. Our next step is to acknowledge this failure externally, to explain our plan to create sustainable change and improve diversity and inclusion while combating racism.
Commitment to Action
Here are the immediate steps we're taking:
Reviewing how we design and create Grokker's content programming to find and fix the ways we are failing to adequately represent people of color.
Assembling an anti-racism task force led by our CEO, to establish enduring practices that hold us accountable to these commitments.
Increasing our standing donations to the NAACP Legal Defense and Educational Fund.
Re-evaluating our hiring practices in order to find and fix the ways we are failing to attract and retain people of color for open roles across the company.
Updating our employee and partner policies to be explicitly anti-racist, which will become enforceable company standards.
Building on the Strength of our Diverse Community
We must do better, and we will. This is only the start. We will make permanent changes to Grokker through focused and sustained effort, listening and learning as we go. You can expect to hear more from us as we make progress through our goals.
The Grokker community is strong, kind, wise, and socially responsible. Together, we will find and share ways to address unconscious bias in the Grokkersphere so that our workplaces, our wellbeing content, and our products and services reflect the change we want to be.