In an earlier post I talked about how entrepreneurs need to make work life balance as high a priority as shipping their product. And it should come as no surprise to anyone that work life balance is just as important for the entire team as it is for its leader.
It is obvious that increasing a team's wellness lowers health costs for the business and increases productivity because of fewer sick days. An even more impactful benefit can also come from increased employee engagement.

The term employee engagement refers to the emotional commitment an employee has to the organization and its goals. The Gallup company regularly publishes results of their global survey that measure employee engagement and recent results are just 13% of workers are actively engaged. And that is a big problem for business.
Low employee engagement leads to high turnover, poor customer service and, as Gallup has found, overall lower revenues, profitability and growth. So smart companies are not sitting still.
Many have begun employee wellness programs specifically with the goal of improving engagement. A recent HBR post talks about TURCK, whose CEO Dave Lagerstrom, wanted to create a work culture that supported all aspects of employee well being — including physical health and work life fit. His program included walking paths and exercise breaks led by peers. These acts, plus others, contributed to engagement rates over 90%.
And even companies like Google, Target and General Mills are offering courses to help employees practice mindfulness as a means to reduce stress. As many of us know, yoga practice is an incredibly effective way to improve your mindfulness and find your center.
At Grokker, we strive to live our values. And thus, when we're not filming, anyone can take advantage of the yoga mats and balls in the studio. And it's not uncommon to see Morgan in a handstand.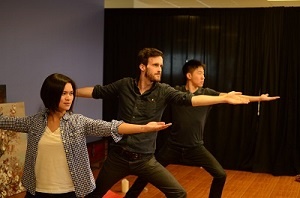 If you are an executive looking to improve your team's wellness and engagement through better work life balance, there are ways Grokker can help. I suggest trying a mid-day exercise break that you can all do together. One of the low-impact options in my Collection below could be one way to start.
Or maybe your team is on deadline and feeling stressed out? Why not take an empty office or other quiet area and furnish it with a yoga ball and mat. Nearby, have an iPad with this collection of stress-relieving yoga videos for people to practice alone or as a team.
Please let me know what you try – I want to hear how it went. Do you have other ideas for ways team leaders can encourage work life balance for their team? Tell me about it in the forum.
Recommended collections to do with your team: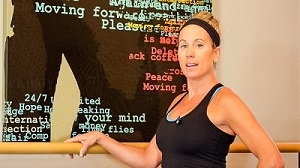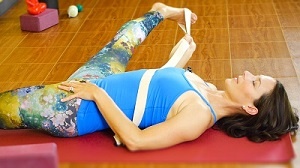 Stretching and flexibility to release tense muscles Yoga for Stress Reduction