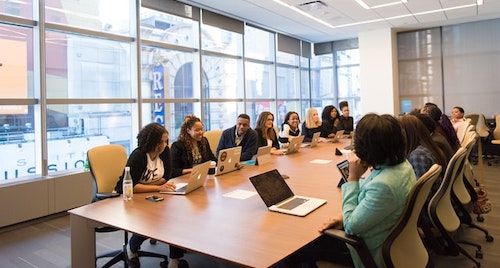 Diversity in the workplace - whether that be gender, race, ethnicity, or any other orientation - is important for several reasons: creating a more welcoming work environment, hiring employees that reflect the communities they aim to serve, and cultivating a more vibrant and rich company culture.
There are also, however, a number of reasons why creating a more inclusive work environment can be a financial asset to your organization.
Deloitte recently conducted a study that compared companies with varying degrees of inclusivity. The study showed that the most diverse companies enjoyed 2.3 times higher cash flow and were 4 times more likely to deal with personnel performance problems than their counterparts.
The truth is that work environments, employment satisfaction, and company culture are all directly linked to the financial success of a company, and investing in a diverse workforce should be a top priority for any organization in today's global market.
Below we'll go over 7 key benefits of inclusion and diversity in the workplace and why you should be investing in a more inclusive workforce today.
Larger talent pool
The idea is simple - with a wider talent pool, you have access to more talented and qualified applicants. Companies that don't encourage individuals from diverse backgrounds to join their organizations are missing out on a huge portion of the hiring market.
When you don't prioritize talent from all backgrounds, you're not just making it harder to find qualified candidates, you're also making it easier for your competitors to hire the candidates you're ignoring.
By creating a robust hiring strategy that prioritizes individuals from all backgrounds, you're ensuring that you never unnecessarily miss out on quality candidates again.
More opinions and perspectives
Different life experiences lead to a diverse set of opinions and perspectives, which can contribute to a rich and vibrant workforce. Having individuals from various backgrounds in your organization will allow you to provide a unique set of experiences that can lead to better and more:
Creativity
Innovation
Productivity
Diversity
Team-building
Empathy
More opinions, perspectives, and experiences will lead to more out-of-the-box thinking. In fact, a Harvard Business Review found that the most diverse companies in their study were also the most innovative. Individuals from different career paths, education levels, cultures, and nationalities, among other backgrounds, are better able to identify certain products and services that fit the needs of changing customer profiles.
Create a wider market
The advent of a global economy and a global internet community has brought the world closer together, and a diverse workplace can help bring the context and cultural knowledge of that global community into your office.
By creating a more inclusive workforce, organizations have the unique opportunity to make informed marketing decisions that appeal to various groups of customers, including international customers, individuals who identify as LGBTQ, first-generation immigrants, and other minority groups that make up our diverse communities.
Bolster your customer service strategy, marketing strategy, and brand by connecting to a wider market through your employees.
Staff retention
Having more diversity and inclusivity in your workforce will lead to a more positive, secure, and healthy work environment. By hiring more employees from diverse backgrounds, existing minority employees will feel less singled out as the only individuals from non-traditional backgrounds in the office.
When employees feel included and seen, they become more engaged in their work, which leads to higher rates of productivity, team morale, and retention.
Less churn rates, of course, lead to less time and money spent on recruitment, allowing you to spend resources on other important aspects of your business.
More reflective of customers and staff
Now more than ever, customers want a workforce that reflects their diverse demographics. This means that hiring a diverse set of employees will allow you to represent the diverse body of customers that rely on you for your goods and services.
Because demographics are becoming increasingly diverse all over the world, especially in North America, it's important to make sure your hiring strategy considers individuals from all backgrounds.
Better reputation and recruitment capabilities
There's a real demand for organizations to invest more in diversity. Nearly 60% of employees say they want to increase diversity in the workplace, and the more inclusive and welcoming of others we become as a society, the more you can expect these demands to be on the rise.
On top of being able to attract high quality candidates who value diversity, you can also bolster your brand and reputation. Creating and maintaining a diverse, inclusive workforce will help translate the kind of positive company values and company culture that all organizations strive to exemplify.
For all of these reasons, investing in a diverse workforce will bode well with your current employees, prospective applicants, and your customers.
Increase in revenue
Companies are tracking their profits after taking on more diverse management and boosting diversity in the workplace, and the results are pretty resounding.
43% of companies with diverse management saw higher profits, and companies who invested in workplace diversity saw an increase of profitability of up to 21%.
This shouldn't be a surprise at this point since we know that more diversity in the workplace leads to more talented workers, productive work environments, innovation, collaborative efforts, healthier communication, and so much more.
Retain more employees with Grokker
Once you've taken the time to invest in a diverse and inclusive set of employees, the next challenge will be to retain them, and this is where Grokker can add a ton of value to your benefits program.
Grokker offers an all-in-one health engagement solution that will empower your workforce and allow them to take control of their wellbeing - no matter where they are.
With Grokker you get:
Thousands of stunning 4k resolution videos designed to delight your employees regardless of their fitness, nutrition, or mental health goals.
A number of upbeat, inspirational, and credentialed health and wellbeing experts from all over the world to help motivate your employees and deliver exceptional guidance.
GrokkerTV, the first WebTV show that brings you cutting edge perspectives and ideas to keep you one step ahead of workplace culture.
Learn more about how Grokker is helping employees transform their mind, body, and lives all around the world today.