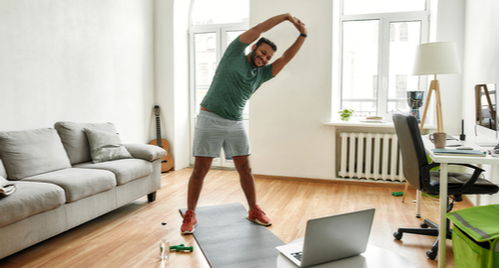 Not too long ago, gyms and health clubs were booming. It's estimated that they reached over 64 million Americans in 2019. Unfortunately, in 2020, COVID-19 put indoor group fitness on hold, and gym members had to find other ways to break a sweat. Many employees who once enjoyed on-premise gyms or company-sponsored fitness center memberships flocked to at-home workouts and on-demand classes, bringing "living room fitness" into vogue.
Working from home and connecting via video conferencing, employees have spent more time in athleisure than ever before. It's time to see how companies can deliver on the at-home fitness trend and proactively bring activity to their employees — and put their yoga and warm-up pants to use.
At-Home Fitness Stats You Should Care About
With people inviting physical fitness into their homes during the COVID-19 pandemic, it's unsurprising that the at-home fitness industry, from fitness equipment to digital fitness content, is riding high. The Washington Post reports that treadmill sales have gone up 135%, and stationary bike sales have dramatically increased as well. People are also purchasing outdoor equipment to help them kayak, ski, and bike to get outside and enjoy the weather (no matter the temperature).
What's more, COVID-19 has changed the way that many brick and mortar gyms operate. Bloomberg reports that 72% of these establishments now offer live stream options for their favorite workout classes. And further proof that the workout videotapes from yesteryear are getting a serious reboot, McKinsey & Company note that digital classes and fitness experiences are expected to stay the course in 2021 and beyond: home exercise (digital instruction) is expected to experience a 72% increase in 2021!
That said, there's still some work(outs) to be done. Let's add another dimension to these fitness-forward trends, courtesy of Grokker's 2021 American Workers' State of Physical Wellbeing research, which revealed that many employees are in serious need of employer support when it comes to building healthy habits and feeling their best:
Nearly one quarter (23%) say that their physical fitness habits have worsened or worsened significantly since the start of the pandemic
Only 44% report they're currently getting the recommended thirty minutes of exercise most days of the week
The top-reported barriers to maintaining physical wellbeing are lack of motivation (41%), lack of time (31%), and lack of separation between work-life and home-life (24%)
The most alarming stat of all, perhaps is that a full 50% of workers report that their employers are not providing them with any form of support for their physical wellbeing. For those who do report receiving benefits, they're most likely to be in the form of wellness programs (23%) and on-demand virtual/video resources (19%). The takeaway here is that maintaining fitness has been easy for some, and more challenging for others; across the board, employees could benefit from additional resources to help them make movement a part of their daily routines.
Three Things You Can Do To Support Your Workforce
It's conventional wisdom that exercise is a great way to manage stress and have fun, not to mention reduce health risks associated with conditions like heart disease and diabetes. Providing your employees with resources to stay moving and active makes sense, especially at a time when they're looking for alternatives to the gym and curious about digital fitness options.
I've seen three effective tactics being used by a number of Grokker customers and other HR professionals I'm in touch with:
Accommodate A Variety Of Fitness Tastes
When picking an at-home fitness delivery mechanism to provide to employees, choose a digital solution with a lot of activity options and flexibility that's easy to access. You never know what individuals will find most compelling and enjoyable and when they want to take action.
Launching a virtual 10,000 step challenge or getting everyone a subscription for one-hour livestream yoga classes simply won't interest all your employees — and some employees won't be able to participate at all due to physical limitations. Instead, cast a wider net so people can participate in the activities they most enjoy and feel comfortable doing, from mobility classes to HIIT workouts. Also, don't make assumptions about the amount of time your employees have to devote to fitness. Some will willingly put in an hour, while others can barely squeeze in five minutes.
Plus, variety keeps your employees coming back for more and creates a well-utilized benefit. If the purpose of your wellness program is to improve usage and make it easy and fun for employees to get moving, then give them options to experiment and find the activities that they'll actually want to stick with. At Grokker, we love mixing it up. One of our clients shared the following: "Grokker truly offers something for everyone. Our employees have a wide range of interests and goals, and it's always easy for them to find the video or challenge that fits their needs."
Focus On Whole-Person Wellbeing
When employers think about personal wellness and what it takes to feel and perform their best, they may not think about running or lifting weights. Even if they do, it's likely they depend on some degree of mind/body balance in their lives and want to incorporate more mindfulness, nutrition, or higher quality sleep. That's why the most innovative employers are thinking outside of the traditional "fitness-is-wellness" box and finding ways for employees to fit a range of healthy habits into their day.
Whole-person wellbeing focuses on the bigger picture. It's not just about physical fitness. Like I alluded to, you'll also want to consider supporting employees' mental/emotional fitness, the building of healthy eating habits, and even financial wellness. Your employees have different interests, goals, and abilities. If you focus narrowly on physical fitness, you might end up tracking the wrong statistics surrounding your wellness program. There may also be no better way to support an employee's fitness goals than my providing supplementary support that aids in recovery, introduces them to new techniques for stress relief, and teaches them how the interconnected areas of health and wellness work together.
As a video-based wellbeing engagement solution, Grokker provides content across the 5 interconnected dimensions of wellbeing: fitness, mental health, nutrition, sleep, and financial wellbeing. Most of our enterprise customers have large, global workforces and need to reach and connect with everyone where they're at — across wellbeing goals and time zones. The concept of whole-person wellbeing resonates with organizations with diverse populations who want a one-stop-shop for all of their wellbeing needs.
Give Permission for Self-Care
If there's one thing we've learned during the pandemic, it's that HR teams need to help people feel their best so they can bring their best into work — even if they work from home. It stands to reason that taking time to take care of themselves plays a part in an employee's productivity and, therefore, your organization's bottom line. This piece of advice is cultural, and challenges you to think about how your benefits approach could be strengthened by making the whole concept of "fitness" more fun and inclusive.
If your program end-game is to increase employees' physical fitness — a worthy goal, to be sure! — keep in mind that promoting self-care is often a way to "sell" light exercise and movement to employees who aren't enthusiastic fitness buffs. People who have pain or injuries or disabilities may need lower-impact and more accessible fitness options, anyway. So make sure your offerings empower everyone to get moving, their way.
The bottom line is that by offering your workforce a digital at-home fitness solution, you're giving them permission to do what they need to do to take care of their bodies — and minds! And if the at-home fitness trend is any indication, your employees will thank you for it! But it's really a win-win: getting your employees set up with the right resources can only serve to help your organization create stronger, healthier, and happier employees.