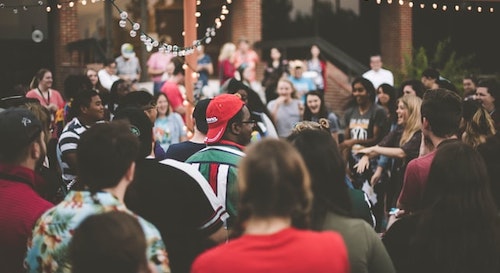 We all know that diversity and diversity appreciation in the workplace is important. It's not just important for making a healthy work environment, it's important for creating a company culture that reflects the values of its customers.
With the importance of promoting diversity and inclusivity in the workplace in mind you can find ways to celebrate diversity by hosting fun diversity events. If you already have a vibrant diversity training regimen in place, diversity events are great ways to continue to build knowledge and share experiences in the workplace.
Below is a list of diversity event ideas you can start implementing into your workplace today.
Diversity event ideas
Diversity events are the kind of positive, community-centered activities that will keep your employees more connected with one-another and happier in the workplace.
Reduce churn rate, promote inclusivity, and get everyone involved with the following diversity event ideas.
Cultural book club - Book clubs are already excellent ways to encourage camaraderie and connect around reading and literature in a fun and engaging manner. Selecting a cultural book list that highlights different cultural backgrounds has all the benefits of traditional book clubs while providing space for employees to learn about each other's backgrounds and experiences.
Field trips - You can provide more opportunities for employees to get to know one-another through a local cultural event or venue. Museums and local exhibits that highlight a particular culture or orientation are great for educating employees and building closer bonds.
Lunches catered by local chefs - Connect with the community by having local chefs cater cultural-specific lunches. You can even ask your employees to offer recommendations to some of their favorite spots around your local area to make the process more interactive.
Cultural potluck - If you don't want to bring in a local chef, have your employees bring in some of their favorite dishes for you! Cultural potlucks are great because of how meaningful food is to so many of us. Allowing your employees to share their favorite cultural dishes can be a great starting point for a fun, educational and cultural exchange.
Hobby fair show and tell - Set aside an afternoon to host a hobby fair show and tell event. Employees can bring in meaningful items that relate to their hobbies, backgrounds, cultures, and families. Encourage employees to ask questions and learn more about one-another throughout the event.
Diversity posters - Ask your employees to get creative by making a colorful diversity poster. The poster can relate to any part of their identity or background, and it should highlight the things about their cultures or backgrounds that are meaningful to them. You can display the posters in the office throughout the week, month, or longer.
Cultural speakers - Cultural speakers are fantastic for informing your employees on important aspects of different cultures. Topics could range from history, food, language, popular culture, and more. You can plan follow-up activities or a group conversation so employees can discuss what they learned and appreciated about the talk.
It's important to continue to promote diversity and inclusivity beyond your diversity training. These event ideas can help you to create a healthy work environment that is fun, effective, and lasting.
Grokker can help you give employees what they want
Camaraderie is an important part of company culture, and finding activities that employees can enjoy, together, can go far to connect them around shared values, including health and wellbeing. At Grokker, we've done the research and figured out what our customers want to help connect employees in this way - video content and online community and learning.
85% of internet users prefer to watch videos online, 72% prefer video over text learning, and 78% watch videos online every week. With these numbers in mind, it's no surprise that video wellbeing content has become so popular.
Grokker gives your employees direct access to thousands of wellbeing videos created and taught by professional, credentialed experts who come from a variety of cultural backgrounds. You can help create a positive work environment that has lasting effects by investing in the mental health, fitness, nutrition, and financial wellbeing of your employees.
Become the model for what it means to have a healthy company culture with Grokker today.