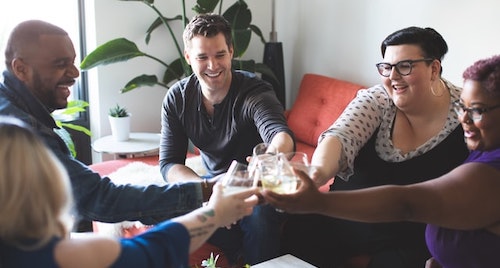 The National Association of Colleges and Employers (NACE) states that inclusive workplaces have higher quality products and lower turnover rates. Many of today's employers focus on ensuring diversity, but they forget that inclusion is necessary to create lasting change, not to mention a sense of wellbeing. How can businesses go about creating an inclusive workplace?
What Is an Inclusive Workplace?
An inclusive workplace uses collaboration, support, and a respectful environment to increase employee participation and contribution. The goal is to remove barriers that can lead to discrimination and intolerance.
What Is an Inclusive Workplace Model?
The inclusive workplace model is one where every person has a voice. It is the elimination of the top-down approach that has been part of business for decades. Today's inclusive workplace relies on leadership support but encourages the grassroots energy that comes with inclusion.
Types of Inclusion
Many factors go into the concept of inclusion, so the types can vary based on industry or community culture. A survey conducted by McKinsey & Company broke inclusion down into four factors:
Diverse and inclusive leadership — Diverse group of leaders that empower others
Meritocratic company culture — Culture based on merit and career advancement
Sponsorship — Organizations that offer professional and diverse advancement opportunities
Interactions with senior leadership — Leaders who play a role in career advancement
Participants in the survey listed these forms of inclusion as the most important to them when considering employers.
Benefits of an Inclusive Workplace
Research by Deloitte shows that companies with an inclusive workplace are twice as likely to meet their financial goals and six times more innovative. Inclusion also keeps 42 percent of employees from considering changing jobs. Employees stay up to three times longer in businesses that make inclusiveness a priority.
Researchers at Limeade Institute and Artemis asked employees how inclusion made them feel. Twenty-eight percent said they were more engaged in their work, and 43 percent claimed to be loyal to their company because of their inclusive workplace.
Creating an Inclusive Workplace
Companies looking to be more inclusive can break the effort down into different components.
Resources — Employees should have access to and contribute to resources that support the inclusive environment.
Make wellbeing a priority — Physical and mental health wellness programs help employees feel valued and cared about; they also reduce call-outs and improve overall morale.
Give them a voice — Allow employees to take part in decisions that directly affect them and impact their work.
Providing learning and advancement opportunities — Employees should feel they can advance in their careers.
Encourage collaboration — A collaborative environment creates a sense of connection within the organization.
Promote diverse ideas and inclusive practices — They should be part of the culture. If the company focuses on inclusiveness, it will become second nature to employees.
By taking steps to be fully inclusive, businesses create a sense of belonging for employees. That can affect everything from employee engagement to revenue.
Inclusive Workplace Best Practices
While there is no one-size-fits-all approach to creating a diverse and inclusive culture, there are some effective practices. A good place to start is by hiring for merit and intellectual diversity. Encourage leadership to remain open-minded when hiring. They should be well-versed in the idea of inclusion and how to implement it. Each team leader should learn to seek diversity.
Provide each employee with a way to find their niche within the organization. Allow for cross-training and learning opportunities. Accept suggestions on ways to change both the culture and the operations. Offering holistic wellbeing and other community-building programs with an inclusive social component is another way to help employees connect with one another around shared interests and values.
Use surveys to track employee experiences -- good and bad. This allows company leaders to see where there is progress and what still needs work from the employees' perspective.
Examples of Inclusive Workplace Policies That Work
As with most things in business, some companies do inclusiveness better than others. Some excellent examples of businesses putting inclusive policies to work include:
Invitae — They launched seven employee resource groups in just six months and spearheaded regular community table talks. Some of their current ERG topics are women in tech and peer soul support for mental wellness.
Asana — Asana builds on its pledge to provide an empowering and welcoming workplace with comprehensive onboarding and customized training that focuses on bias, and harassment plus inclusive education for managers. They foster inclusive communities using social engagement and volunteering opportunities as well. They also offer free therapy and life coaching.
Banner Health — Banner Health celebrates diversity and inclusion with team member resource groups and webinars about mental health.
How Do You Ensure an Inclusive Workplace
Ensuring an inclusive workplace means you must recognize bias when it exists and commit to change. That starts with inclusive leadership, where all employees may speak up and be heard.
Companies must hold their leadership accountable for creating a workplace where everyone feels safe and included. It is the key to more profit and a better world.
When it comes to your company's benefits, make sure that they're meeting everyone's unique needs. Your wellbeing solution should be accessible and offer content and programming that meets people where they are with respect to interests, goals, and abilities, while covering all dimensions of wellbeing. People want to see themselves represented in the tools they use and interact with, so make sure your vendors are committed to inclusivity in their product design and community resources.