They say that April showers bring May flowers...but we'd like to point out that March's focus on sleep has left us well rested to face the ever-busy month of April (Tax Day, anyone?). It's time for some spring cleaning, so hit the refresh button on your employee's engagement with these top tips for holistically supporting your team's wellness this month.
Fill Their Happiness Banks With Stress-Free Financial Wellness
With Tax Day "celebrated" on Monday the 15th, it's easy to see why we've coined April as Health Meets Wealth month. This particular holiday can trigger a range of emotions as people prepare for deadlines and come face-to-face with their biggest financial insecurities. The American Psychological Association found that 69% of people attribute their stress to money and 65% report that work is a cause of stress — interrelated issues, they point out, that are emphasized for many during the tax-filing process.
[Read more: Mindfulness at Work]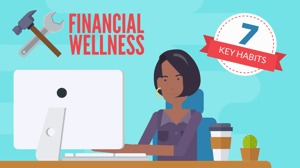 It's the perfect time to encourage your employees to participate in Grokker's feel-good financial wellness program with financial analyst, planner and author, Manisha Thakor. Her 7 Steps to Financial Wellness program helps employees build the key habits necessary for developing healthy financial habits — and reduce stress along the way. Employees will emerge with a better understanding of how much money they have coming in, where it's going out, and what it takes to work smarter, not harder, towards their financial goals.
Not a Grokker customer? Sign up for a free assessment and learn more!
Include Everybody in National Walking Day: April 3, 2019

Perhaps it's parking at the far end of the lot or making that meeting a walking meeting. Maybe it's walking to work or even starting a walking club. However they do it, employees should step out (all month long!) for National Walking Day, started by the American Heart Association in 2007 to promote healthy living.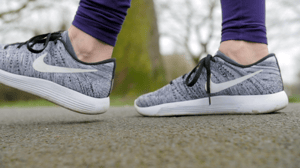 You can register for the AHA's free National Walking Day toolkit or download materials for Move More Month to help motivate employees to tie on their walking shoes and get moving. Keep in mind that 20% of the population — that's one out of five people — has a disability and may not be able to participate in your company's walking efforts. Be sure to head over to NCHPAD's #HowIWalk campaign website for tips, toolkits, and ideas for getting everyone in on the fun.
Inspired? Check out two of Grokker's walking videos: Mindful Walking Exercise and 20-Minute Cardio Walk.
Just say "Om" On Stress Awareness Day: April 16, 2019
There are so many stats out there about stress, just coming up with a good list to share is stressful. Consider these, for starters:
More than 80% of employed Americans say they are stressed out on the job

1,000,000 employees miss work each day because of stress

25% of workers have felt like screaming or shouting because of job stress — and 10% are concerned about an individual at work they fear could become violent
The very least employers can do is acknowledge that stress is a major problem (for all of us) and provide employees with resources to help manage the stress in their work/lives. With Grokker, there's something for everyone:
Help Time-Challenged Employees Get Their Daily Dose of Activity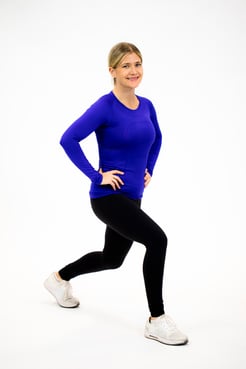 For those who are short on time, have no idea how to get started or what to do next, and are nowhere near a gym or a high-speed network — Grokker's Daily Workouts make it easy to get a full workout in 15 minutes or less.
Daily Workouts are a series of low-impact routines, each targeting a specific fitness area such as full body, upper body, lower body, core, cardio, and more. Our engaging and approachable expert instructors — including Sarah Kusch, who hosts the first 30 videos — demonstrate simple, straightforward moves along with clear, easy to follow instructions. Participants can perform as many reps as they'd like to meet their own fitness needs at home, in the office, or even in a hotel room when traveling.
Don't let gym-timidation hold your team back from getting fit. To get started, users simply login to the Grokker App on their device or laptop and click the Daily Workouts banner at the top of their homepage. Keep an eye on your calendar: Daily Workouts are coming to you April 15!
Not a Grokker customer? Sign up for a free assessment and learn more!
Want more health and wellness holiday ideas?
Download your free 2019 Wellness Calendar for 130 important dates, monthly themes, plus Grokker programs!