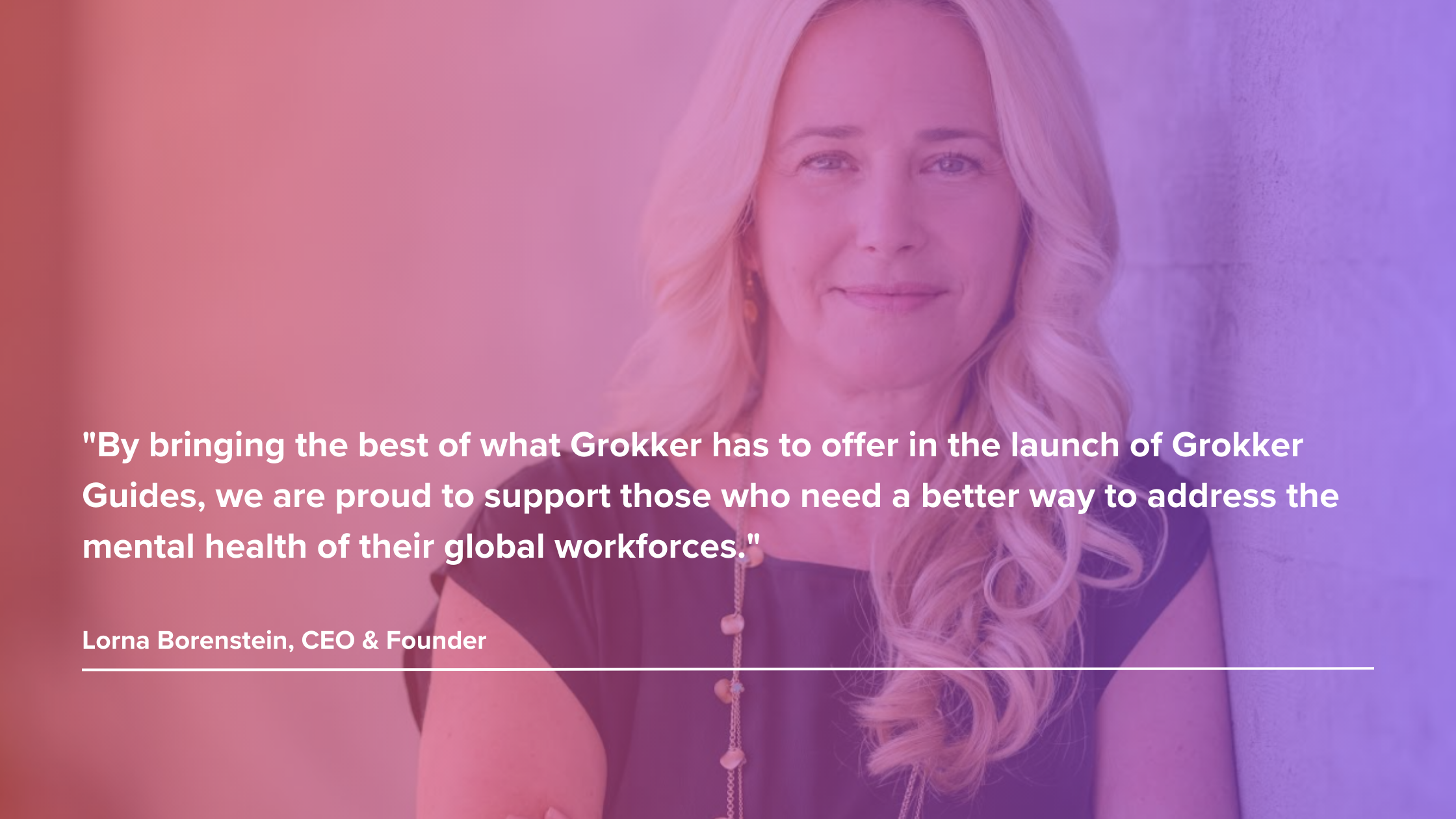 I am deeply grateful to all our Grokker members who inspired us to make employee mental health more approachable and accessible. And I am overwhelmed by the entire team at Grokker who worked tirelessly to create and launch our newest product — Grokker Guides.
This journey began a year ago. Grokker Guides was only a vague idea, and it had no name. The question I was being asked most frequently was, "What can you do to help our employees struggling with mental health?"
In most of the global organizations we work with, every employee engagement survey we see reports mental health as the number one issue. And while 83% of employees also report feeling work-related stress, utilization of mental health benefits offered remains low with the average utilization still hovering well below 10%.
The industry has historically considered 10% to be an impressive utilization rate, but that also means that 90% of employees do not access the care offered to them. Something just doesn't feel right, does it?
We knew we had to build a product that filled this chasm and we needed to think beyond a) 1:1 clinical therapy that can only help a small percent of people; and b) the plethora of mental health apps that digitized distance learning and self-help models.
As we launch Guides, we are bringing mental health care at scale to the millions of people who need evidence-based support from professionals and want a personalized experience along with community support. They want measurable progress and want to come away from their program feeling confident to tackle life's challenges now and in the future.
There is a lot of excitement about what Guides make possible.
Approachable and accessible mental health care
Evidence-based support that fits into busy lifestyles
Mental health crisis prevention at scale
Life-long tools to manage stress, trauma, and more
Trusted connections to remove stigma through community
But How Do Guides Work?
By Building Trust with Evidence-Based Care and Community
Designed as 30-day cohorts, Guides are led by licensed and highly accomplished experts who put you on a path to relief with proprietary "3-steps a day" plans for your mind, body, and mood.
Every session and activity in a Guide is designed by an expert and rooted in evidence-based techniques like Cognitive Behavioral Therapy (CBT). The guide stays with you every step of the way with weekly live sessions, daily check-ins, and a community forum.
Additionally, each cohort operates as a community where you can be completely anonymous or a highly visible and vocal participant. No matter your preference — everyone gets a safe place to experience the incredible healing power of a community.
In our early access Anxiety Guide that rolled out last month, participants lowered their Generalized Anxiety Disorder (GAD-7) score by 53%. GAD-7 is the industry-preferred standard for assessing the levels of anxiety symptoms an individual is experiencing.
By Bridging the Gap Between Mental Health and Holistic Health
Guides offers a solution where mental health care is combined with care for your mind, body, nutrition, sleep, and financial well-being giving your employees tools to tackle mental health in a truly holistic way.
From dealing with the most commonly recognized mental health issues like anxiety and depression to related areas such as stressful workplace dynamics, weight loss, parenting, and many more. There is a Guide for everyone.
By Bringing Costs Down
According to a recent Forbes article, there is only 1 mental health professional for every 350 people actively seeking therapy. What's more, the average hourly rate in the US is now $275 per session. It's simply too costly and frankly, there are not enough providers on the planet to cater to all these varying needs.
Guides is not a replacement for 1:1 therapy or medication. But it is a potent tool for those who may not need or want to seek traditional therapy. Guides provide a new and necessary prevention layer that has been missing by delivering care at scale and at a fraction of the cost of clinical treatments.
I am excited and hopeful for the future. By bringing together the best of what Grokker has to offer in this new launch of Guides, we are proud to support those who need a better way to address the mental health of their global workforces.
CEO, Grokker
Author of It's Personal: The Business Case for Caring